More >
Election Commission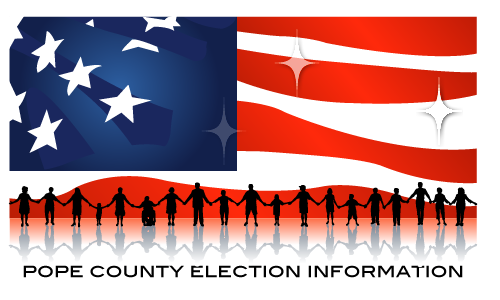 MEMBERS:
FREDDIE HARRIS - CHAIR PERSON
CAROL SHOPTAW - DEMOCRATIC MEMBER
KATHY WESTMORELAND- THIRD MEMBER
ELECTION COMMISSION HEADQUARTERS:
1509 EAST MAIN STREET, SUITE 7 RUSSELLVILLE, AR 72801
PHONE: 479-280-1905 FAX: 479-280-1907
ELECTION DAY POLLING LOCATIONS ARE NOW VOTE CENTERS SO ANY POPE COUNTY VOTER MAY GO TO ANY POLLING LOCATION IN POPE COUNTY AND VOTE ON ELECTION DAY PER POPE COUNTY ORDINANCE 2018-O-43. CLICK ON POLLING LOCATIONS TAB FOR VOTE CENTER ADDRESSES.
ELECTION CALENDAR
EARLY VOTING DATES, TIME AND LOCATIONS:
ELECTION COMMISSION HEADQUARTERS, RUSSELLVILLE AR:
MAY 11, 2021 EARLY VOTING BEGINS THROUGH MAY 17, 2021. HOURS FOR EARLY VOTING WILL BE FROM 8:00 AM TO 4:30 PM MONDAY THROUGH FRIDAY.
ELECTION DAY DATE, TIME AND LOCATIONS:
MAY 18, 2021 ANNUAL SCHOOL ELECTION FROM 7:30 AM TO 7:30 PM AT ANY OF THE SEVEN VOTE CENTER LOCATIONS IN POPE COUNTY. (UNLESS REDUCED DUE TO HAVING SEVERAL UNCONTESTED RACES. CHECK WITH THE COUNTY CLERK OR ELECTION COMMISSION).
HELPFUL WEBSITE LINKS:
LINKS: ARKANSAS SECRETARY OF STATE
www.sos.arkansas.gov
www.votenaturally.org
www.voterview.ar-nova.org/voterview
ArkansasVoterRegistrationApplication
Absentee Voting
ASSOCIATION OF ARKANSAS COUNTIES




1415 WEST THIRD STREET




LITTLE ROCK, AR 72201




PHONE: 501-372-7550




FAX: 501-372-0611


www.arcounties.org
Pope County Justices of Peace District Maps
Voter Registration & Election Records are in the County Clerk's Office