More >
Election Commission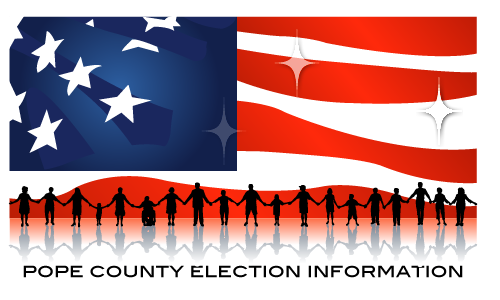 MEMBERS:
FREDDIE HARRIS - CHAIR PERSON
CAROL SHOPTAW - DEMOCRATIC MEMBER
NANCY RASMUSSON- THIRD MEMBER
ELECTION COMMISSION HEADQUARTERS:
1509 EAST MAIN STREET, SUITE 7 RUSSELLVILLE, AR 72801
PHONE: 479-280-1905 FAX: 479-280-1907
ELECTION DAY POLLING LOCATIONS ARE NOW VOTE CENTERS SO ANY POPE COUNTY VOTER MAY GO TO ANY POLLING LOCATION IN POPE COUNTY AND VOTE ON ELECTION DAY PER POPE COUNTY ORDINANCE 2018-O-43. CLICK ON POLLING LOCATIONS TAB FOR VOTE CENTER ADDRESSES.
IF YOU ARE INTERESTED IN BEING A POLLWORKER FOR ELECTIONS HELD IN POPE COUNTY PLEASE CONTACT THE ELECTION COMMISSION AT pcec@popecountyar.gov or at 479-280-1905. YOU MUST BE A REGISTERED VOTER IN POPE COUNTY TO BE A POPE COUNTY POLLWORKER.
ELECTION CALENDAR
EARLY VOTING DATES, TIME AND LOCATIONS (OFF SITE):
FOR SCHOOL ELECTIONS YOU MUST VOTE IN THE COUNTY WHERE YOU RESIDE WHEN THERE IS A PRIMARY OR GENERAL ELECTION (EVEN NUMBERED YEARS). IN OFF YEARS (ODD NUMBER YEARS)YOU WILL VOTE IN THE COUNTY WHERE THE SCHOOL DISTRICT IS DOMICILED (EXAMPLE LAMAR SCHOOL DISTRICT MUST VOTE IN JOHNSON COUNTY).
EARLY VOTING,ELECTION COMMISSION HEADQUARTERS, RUSSELLVILLE AR:
DECEMBER 6, 2022 GENERAL ELECTION RUNOFF:
NOVEMBER 29, 2022 EARLY VOTING BEGINS THROUGH DECEMBER 5, 2022. HOURS FOR EARLY VOTING WILL BE FROM 8:00 AM TO 4:30 PM.
ALL EARLY VOTING WILL BE CONDUCTED AT THE POPE COUNTY ELECTION COMMISSION HEADQUARTERS LOCATED AT 1509 WEST MAIN STREET, SUITE 7 RUSSELLVILLE, AR 72802
ELECTION DAY DATE, TIME AND LOCATIONS:
DECEMBER 6, 2022 GENERAL RUNOFF ELECTION FROM 7:30 AM TO 7:30 PM.
ELECTION DAY VOTING WILL BE CONDUCTED AT THE:
POPE COUNTY ELECTION COMMISSION HEADQUARTERS LOCATED AT 1509 WEST MAIN STREET, SUITE 7 RUSSELLVILLE
OR
POTTSVILLE 1ST BAPTIST CHURCH 5390 WEST ASH, POTTSVILLE
HELPFUL WEBSITE LINKS:
LINKS: ARKANSAS SECRETARY OF STATE
www.sos.arkansas.gov
www.votenaturally.org
www.voterview.ar-nova.org/voterview(Check Voter Registration & Sample Ballots)
ArkansasVoterRegistrationApplication
Absentee Voting
U of A ARKANSAS BALLOT ISSUE EDUCATION LINKS:
LOCAL
STATE
COMMUNITIES
ASSOCIATION OF ARKANSAS COUNTIES




1415 WEST THIRD STREET




LITTLE ROCK, AR 72201




PHONE: 501-372-7550




FAX: 501-372-0611


www.arcounties.org
Pope County Justices of Peace District Maps
Voter Registration & Election Records are in the County Clerk's Office
Russellville School District zones, Municipal, Fire Districts, JP, ETC... Maps